Parent's Page

While searching the web, I've found some great sites for parent's, and I'd
like to share them with you! If you know of any other great sites, please
send them to me, I'd love to check them out, and add them to the list!
World Village is a great site! It has lots of great
things for Parents and Kids. They also have a
wonderful newsletter you can sign up for!
I have had a wonderful time visiting the ABC's
of parenting site. They have tons of great
information, plus lots of great links!
Family PC is a great site that has some
great info. It's also a great magazine to
get a subscription to! You can sign
up to be a family software tester!
Parent soup has so much to
offer that I can't begin to list it
all! Trust me, try it out and
you're sure to find something
of interest to you!
Click below to find out some very useful information about children with ADD and other related
disorders. It is a great link for teachers, and has great parenting tips that
are wonderful for parents of all children!

Check out the National Parenting Information Network at
http://npin.org
Two more great sites to check out are
www.parenthub.com
and www.parenthoodweb.com
Become a Member Of The Mother's Club
Click here for more information!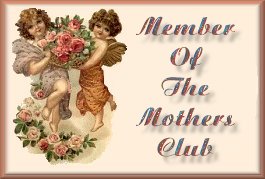 Angel Moms On Earth is a place that you
should check out if you are interested in
making a positive difference in the life of a child!
I became an Angel Mom on July 27, 1999,
and am very excited to be
a part of this wonderful program!
I have more information on this program, plus
an Angel Mom's webring you can go through
on my Remembering Your Spirit page!
Enjoy visiting these sites, and please send me e-mail letting me know about
the great sites for parent's that you have found!
Sign My Guestbook
View My Guestbook