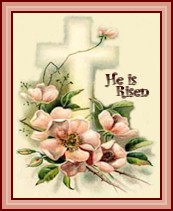 "One Question"
Seperated from his father,
Jesus suffered and bled.
The people shouting insults,
pushing thorns onto his head.
He was whipped , and he was beaten,
But we are the ones to blame.
We aren't worthy or deserving,
But he died for us just the same.
He saved us from the pit of hell,
Now there's hope for eternal life.
For us, the ones who sinned against him,
He went through the pain and strife.
Would you be willing to hang on a cross,
To save the life of a friend?
Would you be willing to suffer and bleed,
Until you thought it would never end?
How can we live the way that we do,
Sinning against our Lord?
We should be forever glorifying him,
In Unity and in one accord.
So, today, I have one question to ask,
One thing I'd like to know.
Why don't you sacrifice for him?
He died for us, you know.....
By:
Jenny Shiplett


Brighten A Friends Day,
By Sending This Poem Their Way!