Hi! I'm Jenny, and I'm so glad you decided to stop by and pay a visit to my site!



I have a wide garden full of pages for you to wander through at your leisure,
and I hope you have a nice stroll. I am adding and changing things as I have time,
so please come back and see what's new! Also, please check out the
links at the bottom of this page to visit the talented people who designed the gorgeous graphics that I have used to decorate my page!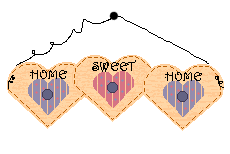 Just make yourself at home and come on in the front door,
you are always welcome!

Please Sign My Guestbook and if you have a webhome, leave your address,
It may take a little while, but I always return the favor and visit you too!

This is my other guestbook. I decided to have two different ones since
occasionally one goes down and will not work, and I don't want
to miss any comments!
Sign My Guestbook
View My Guestbook
If you liked this site, and would like to place a link to it on your site,
here is my banner, that was generously made for me by Maryvel of Heartfelt Graphics!
Thanks Maryvel!



Please link this back to http://members.tripod.com/jenny.s/index.htm
Here is my award! Also made for me by Maryvel, Thanks Again!
Usually the way to get this award is to sign my guestbook and leave your URL,
so that I can visit your site!